April 20, 2018
Member Special May 7-9
Share the spa lifestyle during this special member event!
From May 7-9, Spa Pangea members can bring a friend in for a Member Service and each pay only $59.95
Applicable services include Pangea Custom Massage, Pangea Hydrating Scrub & Body Polish, Pangea Maincure & Pedicure or Pangea Custom Facial.
Want discounts on services, retail, food and more? Learn about our memberships here!
March 28, 2018
40th Anniversary Celebration Events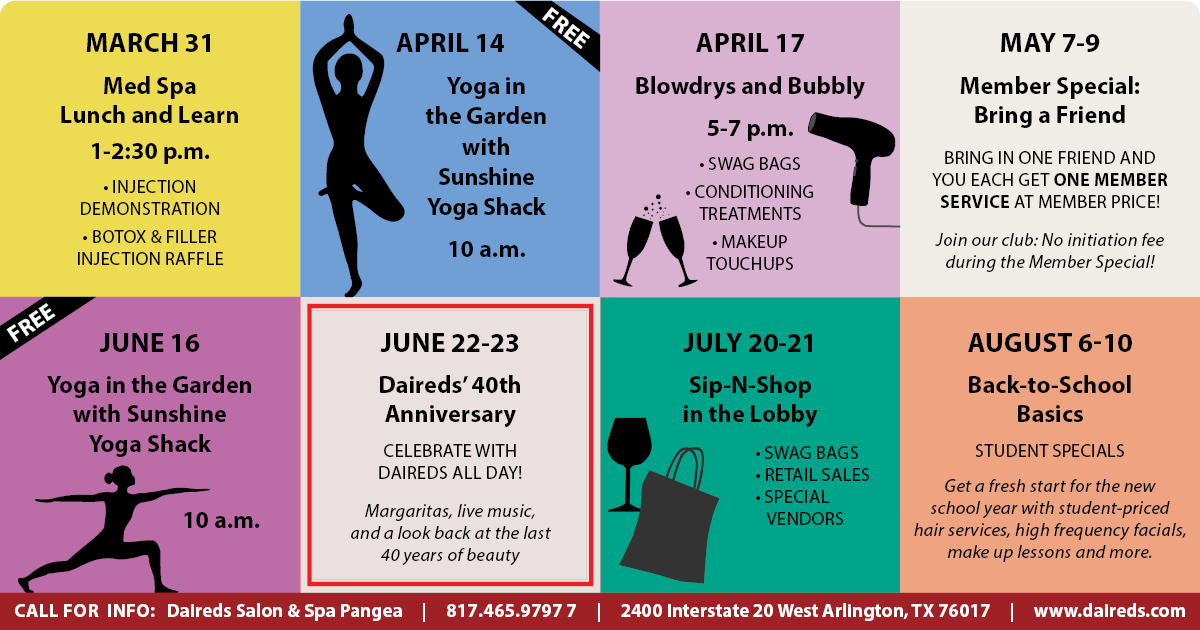 September 20, 2017
Military Discount
April 6, 2018
Turn back time with the help of the experts at Daireds MedSpa
 
Our professional PA Christa Moses and RNs Tatiana Cronen and Rebekah Buhl are here to help brighten up your skin with a wide variety of customizable techniques.
 Now offering:
BOTOX   |   DYSPORT   |  XEOMIN   |   JUVEDERM   |   RADIESSE   |   RESTYLANE
LASER HAIR REDUCTION   |   WAXING   |   VEIN THERAPY
TEETH WHITENING   |   ROSACEA TREATMENTS   |   AND MORE!
March 28, 2018
YOUR APRIL ULTRALUXE GIFT FROM DAIREDS
APRIL SPECIAL
Buy BB Oil – World's First-Ever Luxury Face Oil – and get a Fresh Eyes FREE!
BB Oil Benefits: • Helps smooth and firm fine lines and wrinkles • Visibly reduces dark spots and evens out the skin tone • Booster; helps other products penetrate deeper into skin • Provides immediate hydration and moisturizes skin • Restores skin luminosity • Reduces irritation and inflammation
Fresh Eyes Benefits: • Makeup Remover • Strengthens & thickens Lashes • Ultra-nourishing eye cleanser • Non-irritating • 100% natural
September 19, 2017
Your Passport to Savings

July 27, 2017
Daily Specials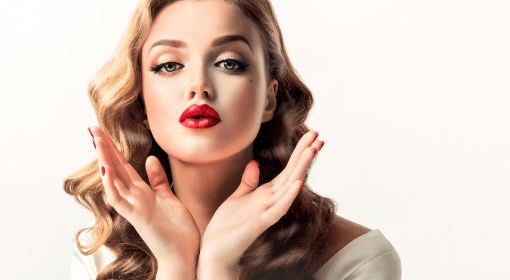 Receive 20% off These Services
Available Friday, April 20th, 2018
Must call and mention Daily Specials to schedule
To receive the Daily Specials by Email Submit Request Here.
Salon
Hilite with Natalia at 10:00 a.m.
Haircut and Finish with Paul at 11:30 a.m.
 Spa

High Frequency Facial at 9:00 a.m.
Shea Butter Pedicure at 10:00 a.m.
Ultimate Swedish Massage at 11:00 a.m.
Balinese Scrub at 11:30 a.m.
Med Spa
None Available Today.
.*Based on availability. Cannot be combined with other offers or discounts
---
On Special Today at Daireds Cafe
Chicken Shawarma with Rice