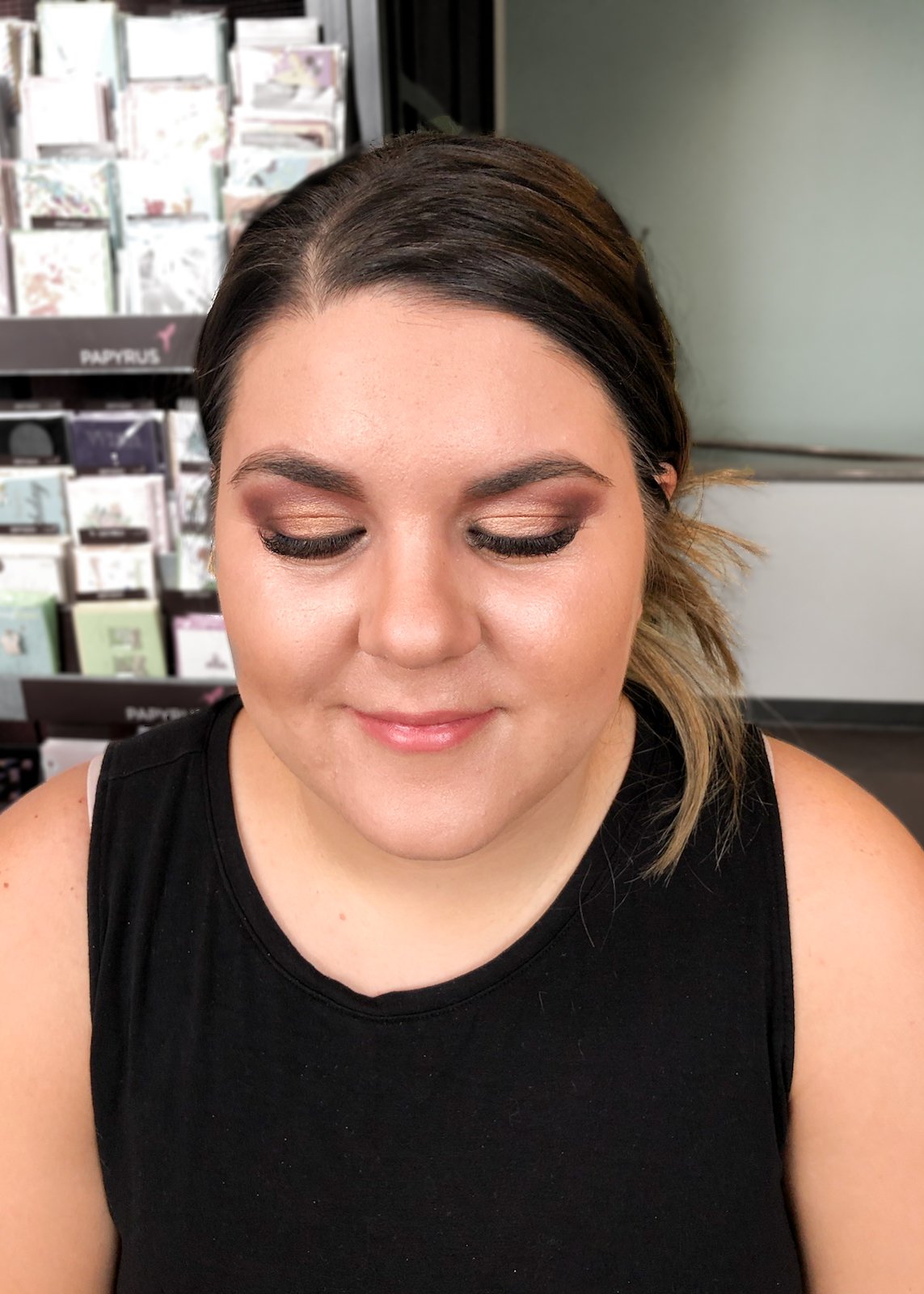 At Daireds Salon & Spa Pangea, our professional makeup services are a must for any special event or occasion. Our talented makeup artists have the skill and experience to create a look you love, tailoring their approach to suit your personality, desired style, face shape and features, and even the occasion. 
With our wide range of makeup services, Daireds Salon & Spa Pangea offers a variety of options to choose from. All services exclusively use Jane Iredale products, a luxury brand considered one of the absolute best in the industry.
Makeup Application
Approximately 1 hour; $55 ($75 for session including false eyelash application)
Treat yourself to a luxurious makeup session with one of our skilled makeup artists, all of whom are trained in the latest looks and techniques. This service includes a consultation and application for a full face of makeup, customized just for you. No matter what the occasion, we'll make sure that you're prepared to command attention with your confidence and stunning look.
Makeup Lesson
Approximately 1 hour; $65
Have you ever wished that you knew more about choosing and applying makeup? With a makeup lesson from Daireds Salon & Spa Pangea, you can learn new techniques, understand basic principles of application, and spend one-on-one time with a professional makeup artist who will teach you how to apply makeup specifically tailored for your style and features.
Bridal Makeup
Approximately 1 hour; $75
You want to feel incredible on your wedding day, and that includes knowing that your makeup is absolutely flawless. Our bridal makeup service in Arlington includes both the consultation and day-of application, so you can be absolutely sure that you'll be the glowing bride you've dreamed of.
The Bride's Package
Approximately 2.5 hours; $335
Feel like the best, most beautiful version of yourself on your big day with our signature Bride's Package. Offering the ultimate in bridal beauty, this package offers a combination of services at an exceptional value. Featuring makeup, hair styling, and manicure services, the Bride's Package is the perfect way to ensure that you walk down the aisle feeling more confident and gorgeous than ever.
Your package includes three separate sessions with one of Daireds Salon & Spa Pangea's expert makeup artists:
A consultation: You will meet with your makeup artist to discuss your ideal wedding day look, including reviewing any inspiration images, features you prefer to accentuate versus disguise, and more. Whether you're hoping for a subtly natural or full-drama look, our makeup artists and other team members will make sure that every last detail is on point.
A rehearsal/trial session: We want you to feel confident that you'll look perfect on your wedding day, so our artists always schedule a rehearsal session beforehand. Based on the decisions made during the consultation process, we will complete the full makeup application and hairstyle. If you'd like any changes to be made, those details will be addressed during this visit. Many of our brides-to-be opt to schedule their bridal portraits immediately after the trial session, giving themselves one less thing to worry about on the big day.
A final wedding day session: Once your special day has arrived, your beauty experts will make sure your makeup, hair, and nails are done to perfection. You can enjoy the relaxing experience of being pampered before you say "I do," creating the perfect opportunity to prepare for the big moment, get a few candid photographs for your wedding album, and even bond with your bridesmaids.
Depending on availability, location, and other factors, Daireds Salon & Spa Pangea may be able to offer makeup services on-site at your venue of choice. If you are interested in requesting on-location wedding makeup services, please contact us to request details.
Book Your Beauty Session with the Best Makeup Artists in Arlington, TX at Daireds Salon & Spa Pangea
Here at Daireds Salon & Spa Pangea, we truly believe in the power of recognizing your own natural beauty and finding confidence that goes beyond the way you look. Even so, makeup can be a wonderful way to boost your self-esteem, celebrate a special occasion, and accentuate the features you love most – so why not treat yourself to the professional makeup experience you deserve?
For clients searching for makeup artists in Dallas-Fort Worth, it can be challenging to locate a professional with the right balance of talent and experience. At Daireds, our team has a reputation as being the best in the city, providing every client with exceptional service and a gorgeous look they truly love. Our stylish, comfortable setting, friendly team, and dedication to premier products and services have made Daireds one of the top salons and spas in the country, earning us industry recognition and setting us apart from any other salon or spa in the Dallas-Fort Worth Metroplex.Make Daireds Salon & Spa Pangea your choice for professional makeup services in Arlington, and we promise that we'll change the way you think about beauty forever. Contact us today to schedule an appointment!